Plants vs. Zombies
Wednesday, February 9th, 2011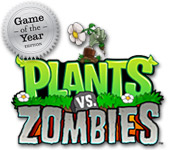 Whoever thought that pitting zombies against something so vulnerable as plants could be so fun and addicting?
Plants vs. Zombies is one of Pop Cap's great strategy games. The goal of each level is simple: Use plants to keep zombies from getting into your house and eating your brains. But coming up with a winning strategy for each level is pretty entertaining and sometimes quite difficult. The style of this game is a bit of a twist on tower defense games, but it fits the bill, so I'll call it a tower defense game!
Just like other Pop Cap games such as Peggle, the main adventure mode is great and takes a while to play through, but it serves as just the beginning to a much larger game. There are a few different challenge modes, a car trunk full of goodies to buy, and numerous gardens where you can use your green thumb skills to grow plants and collect income from those plants.
The challenge modes consist of ZomBotany, Wall-nut Bowling, Slot Machine, and more. These are fun games that take no time to learn and provide a great challenge right out of the gate. ZomBotany creates a strange group of zombie/plant hybrids, which shoot at your plants, making it much more difficult than normal game play. If you, like me, struggle with this one, it being the first in the list of Mini-Games, don't get discouraged. Further down the road, you'll gain enough tools to come back to this one and make it past.
The Puzzle Games are pretty fun twists on zombie and plant manipulation. I, Zombie puts you in control of the zombies trying to get past the plants (which are fake, because who in their right mind would harm plants?) and into the house for some fine dining on brains. It's pretty fun to see things from the other side and try your hand at plant destroying.
The game can be played free for an hour with Big Fish Games' Game Manager, so try it out! Once you get hooked (if you like games at all, I imagine you will get hooked), the game is pretty cheap for so many hours of good entertainment.
Click right about here to get it.